Services
In addition to our quality range of products we offer a number of services to keep your computer up and running.
Data Transfer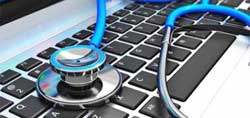 When buying a new computer system or laptop we are able to transfer all your files from your old computer to your new one. This includes your documents, music, pictures and videos. We will also import your email, contacts, calendar and email accounts back into your email program for you.
Upgrades
We can upgrade your sluggish server, desktop or laptop computer to help it cope better with the latest applications and games. Common upgrades include installing more Memory, a bigger Hard Drive or a more powerful Graphics card. Simply call us to pick-up your computer system and have our expert computer technicians get it done for you.
Workshop Repairs
Our workshop is fully equipped to repair all manner of hardware and software related issues. If you're having issues with a software package, your Windows installation, or if your computer simply will not turn on, call us to pick-up your system to bring to our workshop for a complete assessment.
We work on fixed rates and will not spend your money without informing you first so there are no nasty surprises. Most repairs can generally be carried out within a few days of bringing in your computer. A priority service is also available at an hourly rate.
On-Site Repairs
If you are unable to have our technician bring your computer into our workshop for whatever reason or you have an internet or network related issue we can send one of our skilled technicians out to your location instead.
On site jobs are charged at competitive hourly rates and, depending on how critical the issue is, we can generally have someone out to your location within hours of your call.
Virus Protection & Removal
Viruses and Spyware are all too common in the age of the internet and whilst your Antivirus package should help stop most issues some infections can still slip past this defense and get into your servers and computers causing network issues as well. With the help of a number of specialised tools we are able to remove most infections from your computer and help prevent them from reoccurring.
If your Antivirus package is nearing its expiry date, come and see us to find out which is the latest and greatest protection for your computer at the moment.
Networks
If you are having issues with networks or need a network setup, we at Greening Computer Services are only too happy to help your business with consultation or setup of a network.
Web Design
If you are having issues with website or it needs updating, we at Greening Computer Services are only too happy to help your business with consultation or design of a new website at a reasonable price.